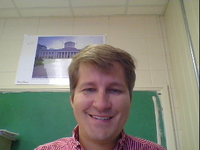 Contact Info and Conference Time:
email: bknight@hssd.k12.ms.us
Conference Times:
Monday- 8:24am-9:14am
Tuesday-7:30am-9:14am
Wednesday-12:30pm-3:00pm
Thursday-7:30am-9:14am
Friday-7:30am-9:14am
Mr. Knight's 8th Grade Science Class Schedule

Group 1- 9:18am - 10:08am
Group 2- 11:00am - 1:24pm
Group 3- 1:28pm - 2:18pm
Group 4- 2:22pm- 3:12pm
Google Classroom login codes:
Group 1- a6tupsd

Group 2- q3dkstc

Group 3- izujct5

Group 4- ybr3kw
Welcome to 8th Grade Science!
·

All lessons and classwork (including assessments) will be posted to Mr. Knight's google classrooms.

·

In the lessons, power points will be included. In addition, I do/we do/you do practices will also be included.



·

All assessments (weekly and bi-weekly) will be due on Friday before the end of their class block.

·

New grades will be posted every Wednesday of each week.

·

Any work that is not turned in

ON TIME

shall be given a grade of zero.

·

If you have any questions regarding the lessons or work, please contact me though email.
October 19-3:
-Protein Synthesis

-Genetic Mutations
Power Point
·

I do, We do, You do practice

·

Weekly quiz

·

Bi-Weekly quiz
November 2nd-13th: Earth Systems and Formation (Standards E.8.9A.1, E.8.9A.2) *Found in your Google Classroom account

·

DNA Power Point

·

I do, We do, You do practice

·

Weekly quiz

·

Bi-Weekly quiz